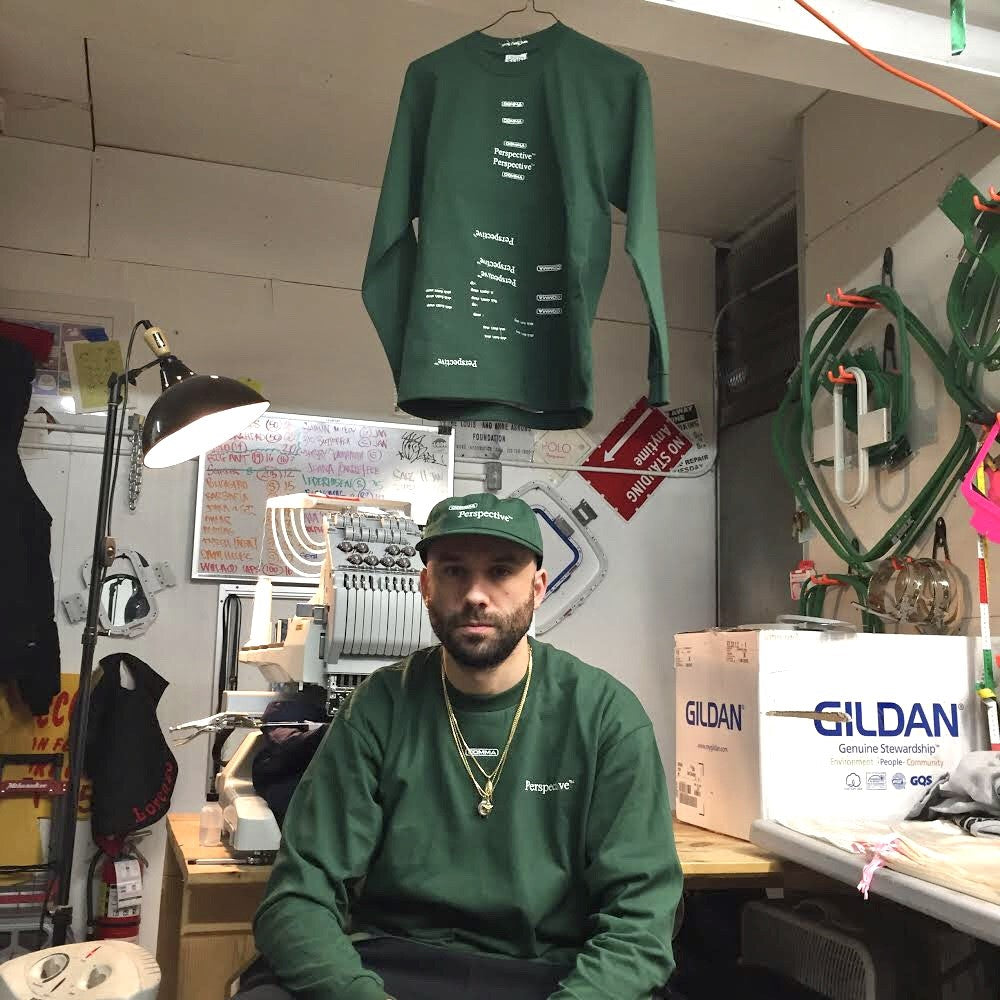 After some back and forth emails, I'm happy to present our latest interview with Rocco Arena of arena embroidery.⠀
⠀
Start off by telling me who you are, where you're from / currently live and what you do for work.⠀
⠀
Hello I am Rocco Arena. Born in Philadelphia, PA and currently living and working in Brooklyn, NY. I own and run an embroidery shop, established in 2018.⠀
⠀
Can you talk about when you first started doing embroidery work and what led you to starting arena embroidery?⠀
⠀
I moved to Los Angeles in late 2011, after studying film and cinema at NYU, thinking I would start working in that industry. I almost immediately started working in a much different one: embroidery / apparel-embellishment. Nike Sportswear hired me to establish the West Coast operation of their 'bespoke' Destroyer program, where I was to design graphics and techniques to adorn their 'varsity-jacket' silhouette for celebrity and consumer, and execute the embellishments myself. Mind-bending artist Erik Siador became my partner in this endeavor, and as a team we produced some truly epic stuff. After 3 years of Sportswear, I moved back to the East Coast and began working as an assistant to New York City based artist, Borna Sammak, incorporating techniques and machinery that I had learned and developed in Los Angeles. After several years of assisting Sammak, I made the decision to work for myself and begin a studio / shop of my own.
A couple years ago you worked on a few custom vest pieces for Drake during his North American tour. How did that opportunity present itself and was that one of your more challenging commissioned jobs?
Drake's 'Scorpion' Tour was a whirlwind of excitement and opportunity, that presented itself through connections with Matthew Burgess (artist and chain-stitcher), and Mellany Sanchez (Drake's image-director). I'm truly blessed to know these incredible individuals. Over the span of almost one year, we produced many unique pieces (vests and otherwise) for Drake to perform in, wear in music videos, and attend events. 
Another gifted chain-stitch artist, and master seamstress, Victoria Adrian, became essential as well in producing these one of a kind garments. Working on these unique pieces led to producing Drake's jacket and kit for the Toronto Raptors' victory parade for their first NBA Championship. This ultimately led to producing the Championship Jackets for the team themselves, which I still consider my greatest and proudest achievement.
For those not familiar, myself included. What's the process from start to finish when embroidering a hat or garment?
After confirming a 'flat' image - (a graphic), the image is traced, or re-drawn - mapping the puncture-points, angles, and stitch 'style', with time (sequence) in mind, using CNC embroidery software. Once a file is created for a automated embroidery machine, it is usually tested several times before a final proof / sample is dialed, and ready for the actual garment. Garments are 'hooped' taught, and locked into the machine, which then has all the commands it needs, from the programmed-file, to execute the sewing.
Is arena embroidery a one man show or do you have a team you work with?
Arena is now a team of 5 individuals, running 9 'heads' of embroidery. All of us specialize in different aspects of the shop. My main role is file-creation.⠀
Last month arena did some embroidery work for LQQK Studio on a couple hats. Could we expect to see any future releases from arena?
LQQK Studio, and it's team have been close friends to myself, long before arena embroidery. Since establishing arena, we've worked closely together on events and any embroidery needs they have for the brand-arm of their company. I'm very excited about some upcoming collaborative projects with LQQK this year.