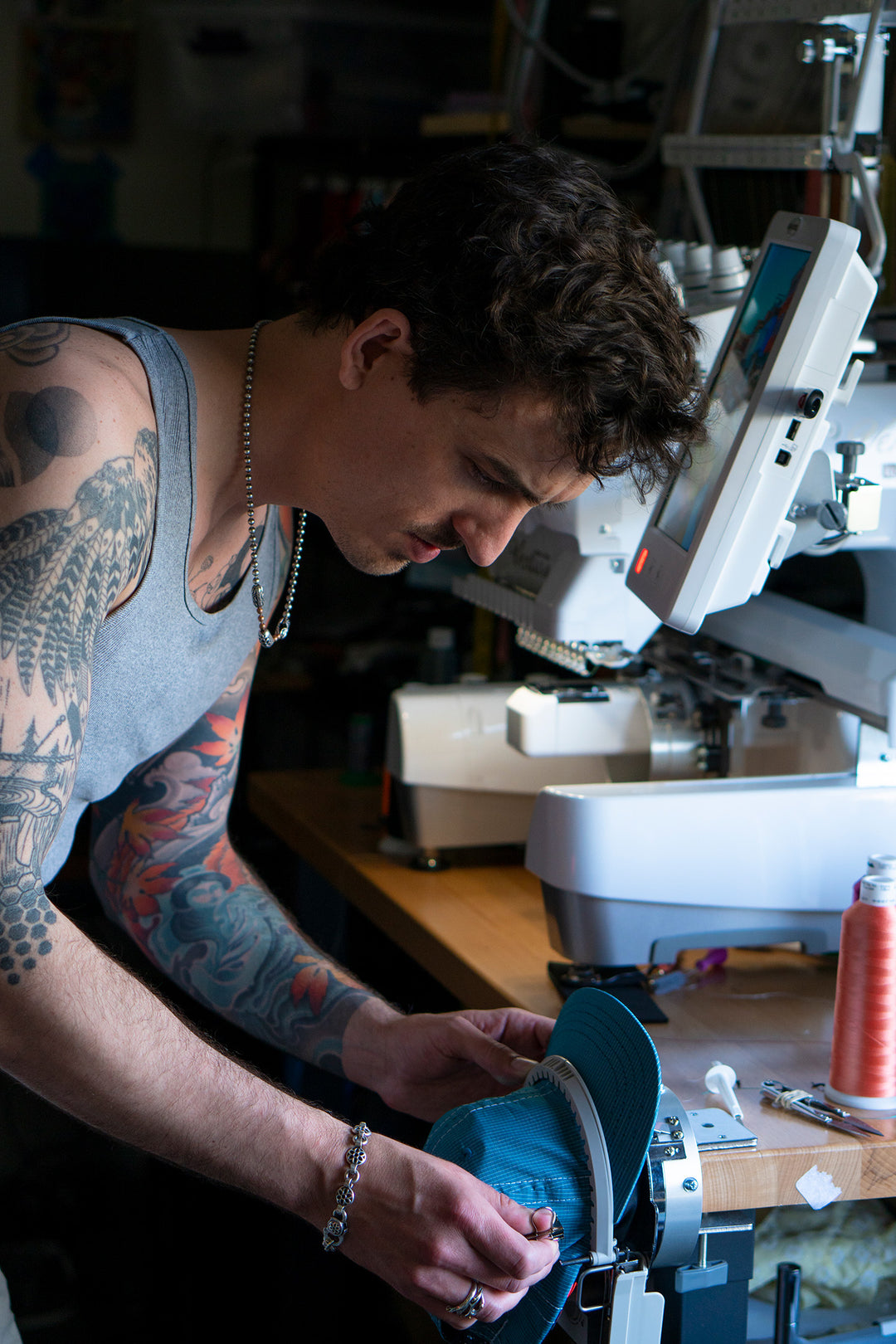 We sat down with Grant Van Peski of towndust to chat about how he got started and the story behind his iconic blur embroidery.
To see more of his work, check out his Instagram.
Hey Grant! Thank you for taking the time to chat with us! Can you introduce yourself and where you're from?
HellooOo—I'm Grant Van Peski. Born and raised in San Diego. I moved to Los Angeles in April 2021.
I can't believe it's been 12 years since you started
towndust. What inspired you to start your own brand back in 2010?
Designing under the name 'towndust' started with yearly cut & sew collections I designed to display at an annual fashion show organized
by a campus fashion club during my days at UC Irvine. It stuck with me and became the umbrella I tackle most creative projects under. Though my true origin into sewing started with the need to taper the flare in the women's denim I was buying during my emo phase :)
Where did the name towndust come from? Is there a special meaning behind it?
So, the true shameless and uninspiring origin story of the name towndust is as follows: in 2008 I got super into Chemical Brothers and downloaded a torrent of their discography. The first album was titled 'Exit Planet Dust'—I thought it was such a cool name and immediately started thinking how I could jack it! haha. I ended up on 'towndust'
Back in 2017, you teased initial concepts for the blur embroidery caps and mentioned that they would be released in the future when they were ready. Now in 2022, the hats are a regularly sold-out staple, coming in various forms and colorways. Where did this idea start from and how did evolve into today's design?
Wanting to explore if it were possible to mimic a blur-effect via machine embroidery pushed me to learn to digitize artwork for embroidery files myself. I had been dabbling in machine embroidery via my mom's machine for a while, but always had an outside company digitize the embroidery files as that is its own set of specialized skills one must learn. The blur embroidery was such a weird, atypical request for them, it spurred me to teach myself how to create embroidery files.
I've had the SD and LA blur designs done since 2016, but I still had trouble selling even 12 caps at weekend pop ups. Letting random SD blur releases marinate in the public for a couple years definitely helped build some hype. I moved to LA last year and started releasing LA blurs more consistently and am now starting to see LA compete with SD in terms of cap sales.
Your re/dust sub-label highlights one-off designs of thrifted and re-worked garments. When did your love for vintage start?
Early high school days we would go to this huge thrift store called DAV. I found so many great pieces that people would always ask about and realized it's a more affordable way to be unique--later realizing it's also a more sustainable uniqueness. I still have the Fedex sweater I found there — apparently all their uniforms are supposed to be turned in when leaving the company to avoid impersonators, so I consider it rare lol.
How do you see towndust and re/dust evolving over the next few years?
Slow, controlled, and deliberate growth for both—domestically and internationally. I would love re/dust to become a larger operation--the work & volume @swayeshop and @americanrecycledclo do with repurposing clothes/fabric is on another level and inspires me. I work in sales for a soap company as a day job, so it affords me a lot more freedom in towndust with being able to only work/sell with the people I care about.