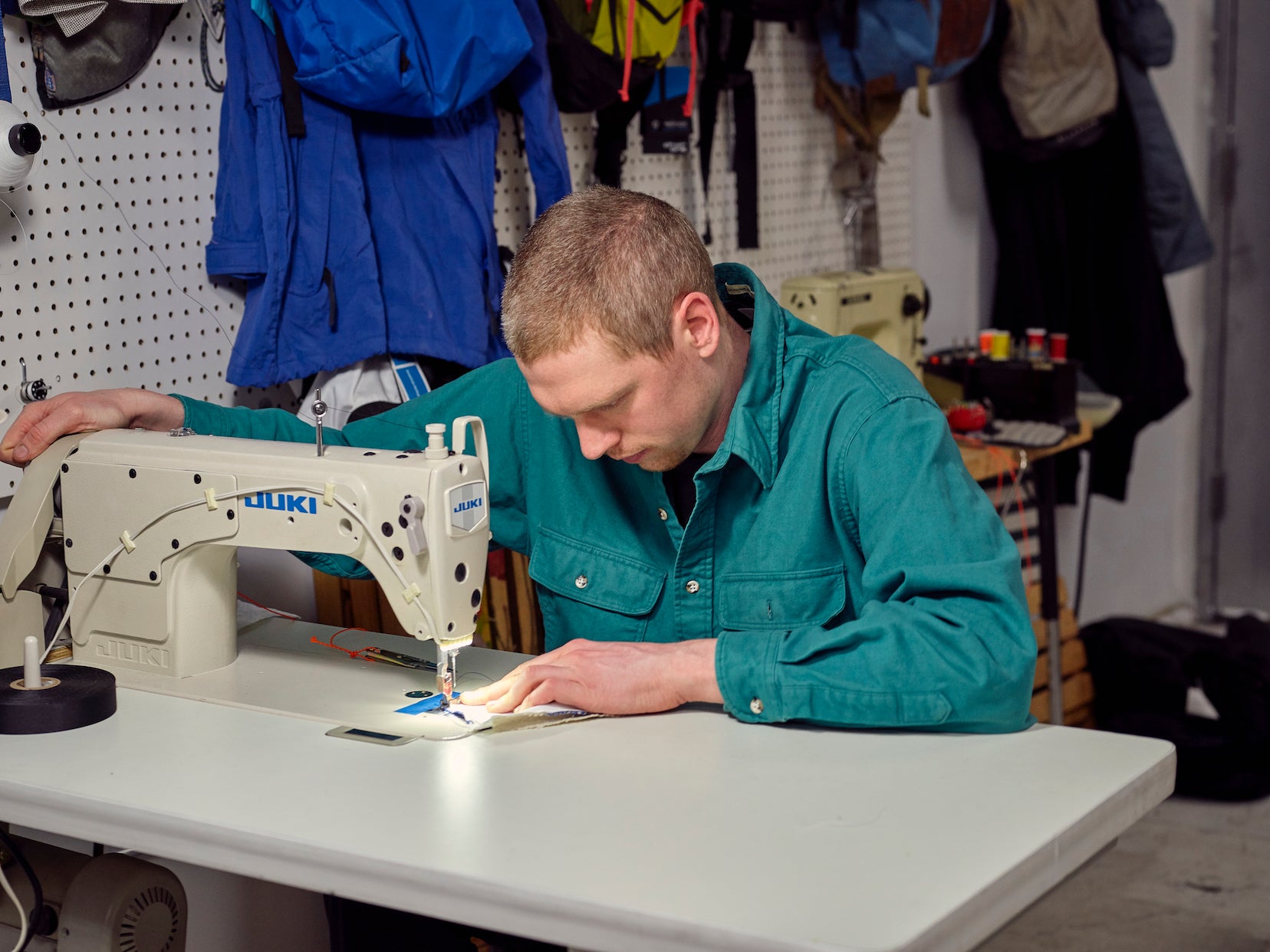 Start off by telling us who you are, where you currently live and what your occupation is.
 I'm Phil Schade, founder and designer of 1733. I live and work in Chicago, Illinois.
 What does the name 1733 stand for and how did you get your start designing / making bags?
 1733 is the address number of the house I grew up in Center City, Philadelphia. My parents bought it shortly before I was born and still live there today. It's a narrow row home on a small block that they (both architects) have continued to renovate and update throughout their time living there. And even though I haven't lived there in 15 years and my bedroom was changed into an office shortly after I graduated college, I think it will always feel like my home. When picking a name for this brand I latched onto 1733 and it continually reminds me of where I came from, which influences my aesthetic tastes to this day.
 After graduating with a degree in mechanical engineering I ended up in IT consulting. I missed working with my hands and began to teach myself how to sew. As I built up a larger portfolio of work I decided to share it under the 1733 name. Bags were a part of those early experiments and as I became a better sewer and designer it became clear that this was an area where I could really be creative and make the kind of work I didn't see being produced elsewhere.
The bags you create tend to utilize a mix of fabrics. What have been some of the more difficult fabrics you've had to work with as well your  favorite?
 Leather is the most difficult medium I work with. It can't be cut well with scissors, the hides are irregularly shaped, you have to work around blemishes, it stretches unpredictably, and it's unforgiving when sewing. I try to limit how much I use it for those reasons but it has a lot of benefits (durability, unique look, upscale tactility) and some customers really desire it. Many of the different variants of Dyneema Composite Fabric are difficult to work with as well from a cutting and sewing perspective but, again, it performs extremely well and people want that. The bulk of my bags are made from Dimension Polyant X-Pac laminate fabrics and classic woven Cordura nylons, these fabrics are easy to work with, perform great, are available in wide color ranges and are easily accessible for a small shop like mine.
Can you walk us through the process from start to finish on creating a bag for 1733?
I do all my pattern making manually on poster board, and build samples and prototypes through an iterative process. This ensures that the parts of the bag fit together right and I am able to incorporate the functionality I want into an attractive shape. I use my pattern pieces and a variety of cutting tools to cut the material (sometimes using multiple layers, depending how many units of the bag I am making). I also cut trim pieces like webbing and zippers in the early stages of production. Sewing a bag involves making mini-assemblies of the different panels that make it up and then putting together those panels into larger and larger parts until the bag is ready to be closed up. Throughout this process I am performing quality control to make sure there are no loose threads or any damage to the fabric. Typically my bags are assembled inside out until the final sewing operations are completed, and then I flip the whole thing out to see the finished product. Finishing touches in the form of zipper pulls or accessory straps are made and added in the final stages.
What do you enjoy most about the process, is it the design side of it or the manual labor?
Truly I enjoy both equally, they provide a nice balance of different types of problem solving. Sewing a new design that I've been thinking about and drawing for months is extremely rewarding as a form of creative expression. But also figuring out the most efficient way to make a batch of that bag and sewing each step 10 or 50 times in a row allows me to feel really attached to the products I am putting out into the world.
But also figuring out the most efficient way to make a batch of that bag and sewing each step 10 or 50 times in a row allows me to feel really attached to the products I am putting out into the world.
In addition to selling your bags through your online store, you also sell to a few select retailers both domestically and internationally. How do you decide on which retailers to partner with?
 I try to pick retailers that have a strong and unique point of view and appreciate what it is that I am making. I think it could be easy for someone to glance at my bags and not get what separates them from other brands. A little closer look, and a willingness to dig into my process will justify longer lead times and higher prices. I believe that is why I've had some success in the Japanese market, where there is a great appreciation for craftsmanship. I've been lucky to find some retailers that really get it and that energizes me to push myself and my designs to create special retailer specific collections. A great example of this is the 3 exclusive collections I've done with Hudson, NY retailer Meridian (@meridian.vision)
Outside of creating bags I saw on your site you created a pillow as well as a small run of portable and durable chairs. As your brand continues to grow, do you see yourself continuing to work on and offer similar items?
I love having products that people can appreciate in ways other than just carrying them—I like making things that are artful and that you'll want to use a lot and keep around. Making 1733 homegoods helps establish a little more of an intimate connection to my customers, since these are more permanent, one-of-a-kind pieces. I also like to use my homegoods line to do more experimental work and collaborate with other artists, which is an important part of the brand—our chair show series and the pillows were made using painted fabric by William J. O'Brien and bring art into the everyday. The chairs will always be a part of 1733 as they fit the inside / outside and form / function scales I am always trying to balance so well…I am also trying to incorporate more clothing products into the brand so I can share other aspects of my design tastes with people.
Photography by 1733, Mary Manning and Scottie Cameron