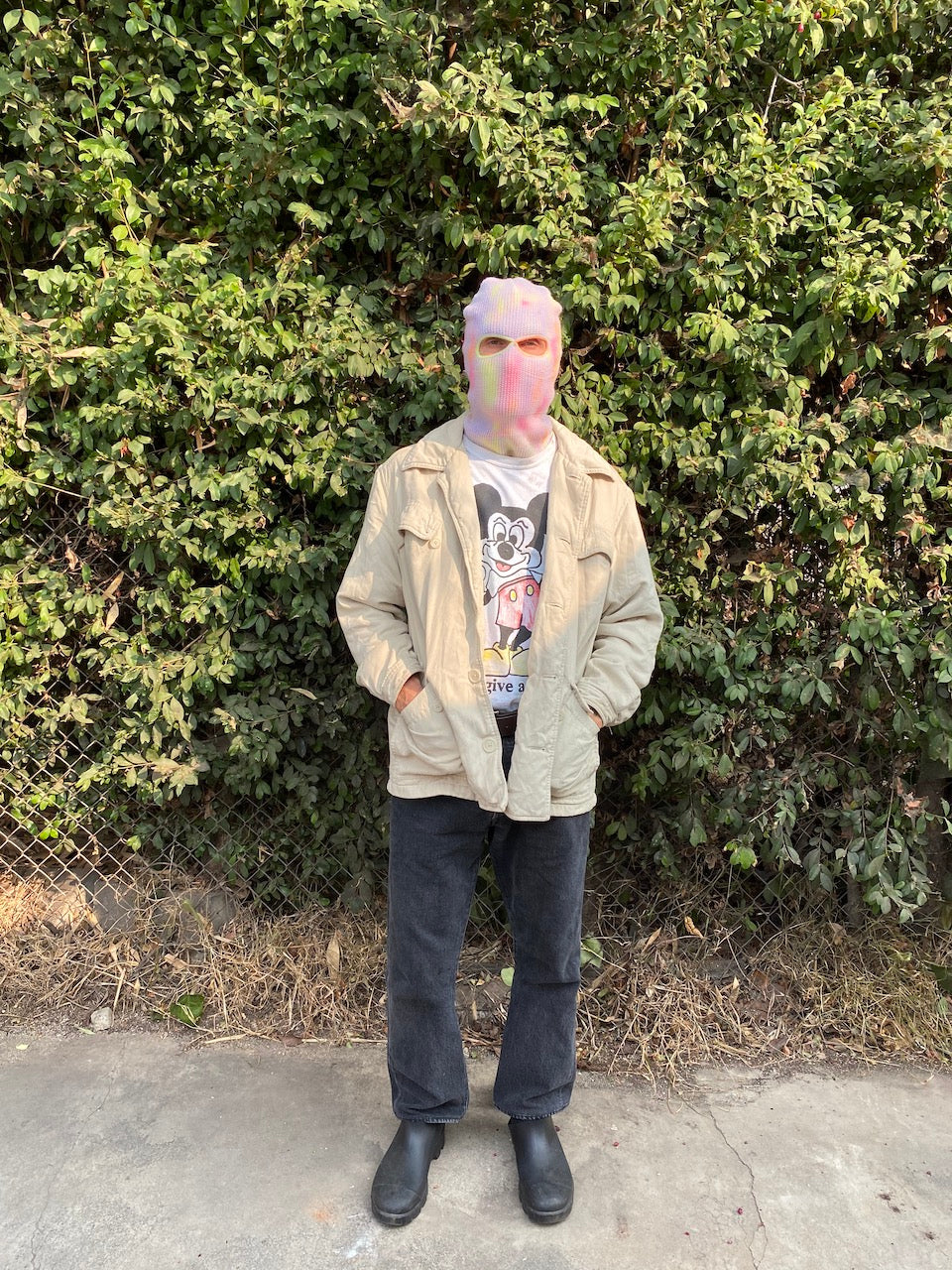 Tell us about yourself, where you are currently based and your occupation.
 My name is Kevin Emerson, I grew up in western Massachusetts. I've spent time around the country, but most of the last decade was spent in New York City. I'm currently in Los Angeles making art and working with clothes.
How did you get your start in tie dye and what inspires your creative process when deciding the items you work with? (ie: Canvas, apparel, home goods.)
I grew up around it, Western Mass is a pretty chilled out place. My father wore and still regularly wears tie dye shirts. My sister is 10 years my senior and has always been a Dead Head and Phish fan. It was in the house for sure. I did some random dye stuff at Summer camp when I was a kid but didn't really get into doing it until I was an adult. I couldn't find anyone to dye for a project I was helping with a few years back, so I ended up taking it on. It makes me happy. I like working with different things and exploring ideas on different garments as well as drawing and painting them out. There isn't a specific or consistent formula or routine I follow with ideas. 
Retail was how we both got our start in this industry. You've brought up your background working in high fashion retail which has led you to where you are today. Can you walk us thru your journey on becoming one of the most well-known tie dye artists? 
Over the years I've worked quite a few retail jobs, high and low end. I've probably worked almost every possible retail position and have quite a bit of back end and logistical experience. I've always loved clothing, in a big way, beyond what I will put on myself. I appreciate and am a fan of so much more than I would ever personally wear and I think that's important. It wasn't until I was selling ready-to-wear and handbags that I realized that I had the interest and patience to learn more in this direction. I didn't fully realize that all that retail experience alongside gallery work and studio assisting was prepping me for what I'd end up doing, which is still somewhat vague. The only way I've gotten anywhere with tie-dye work is trust. Trust from people who let me dye their stuff at first, trusting myself to do a good job on things and trusting that the love I put into it is felt. I still dye everything myself, or with help from my partner Ronnie.
One of the biggest challenges in our industry is struggling to balance artistic integrity and commercialization of products. What are your thoughts on artists merging in the fashion world as someone that has experience in both creative spaces? 
Yeah, it's tough. If you strictly make your own stuff, that's great and you can have full control over everything. But if you're working with somebody else, specifically a big brand, there's certain things that need to be considered and negotiated. It can work either way, just make sure it makes sense for you.
LQQK Studios, Peter Sutherland, Tony Tafuro are all talented artists you've worked with in the past… If you had a dream project and collaborator, who would it be? What would you love to create? 
That's family. I love them all for life. I want to work on things that feel right and hopefully make people happy. My dream project right now is voting Trump out of office and the collaborators are everybody.
NYC has been a huge part of your journey…what made you head out west to LA and what do you miss most about NY? What do you look forward to about living in LA? 
It was in the plan to spend this coming winter in LA, we've been claiming it since last winter, our plan was just expedited. We were going to extend our apartment and studio leases which were up in June, but didn't, we cruised early. I miss NY, miss my friends. But I'm happy out here right now, excited to work with people that are out here that I've loved from afar. I'll be back and forth as much as possible. There are places in-between coasts I'd love to spend more time in as well, I wish I could live everywhere.