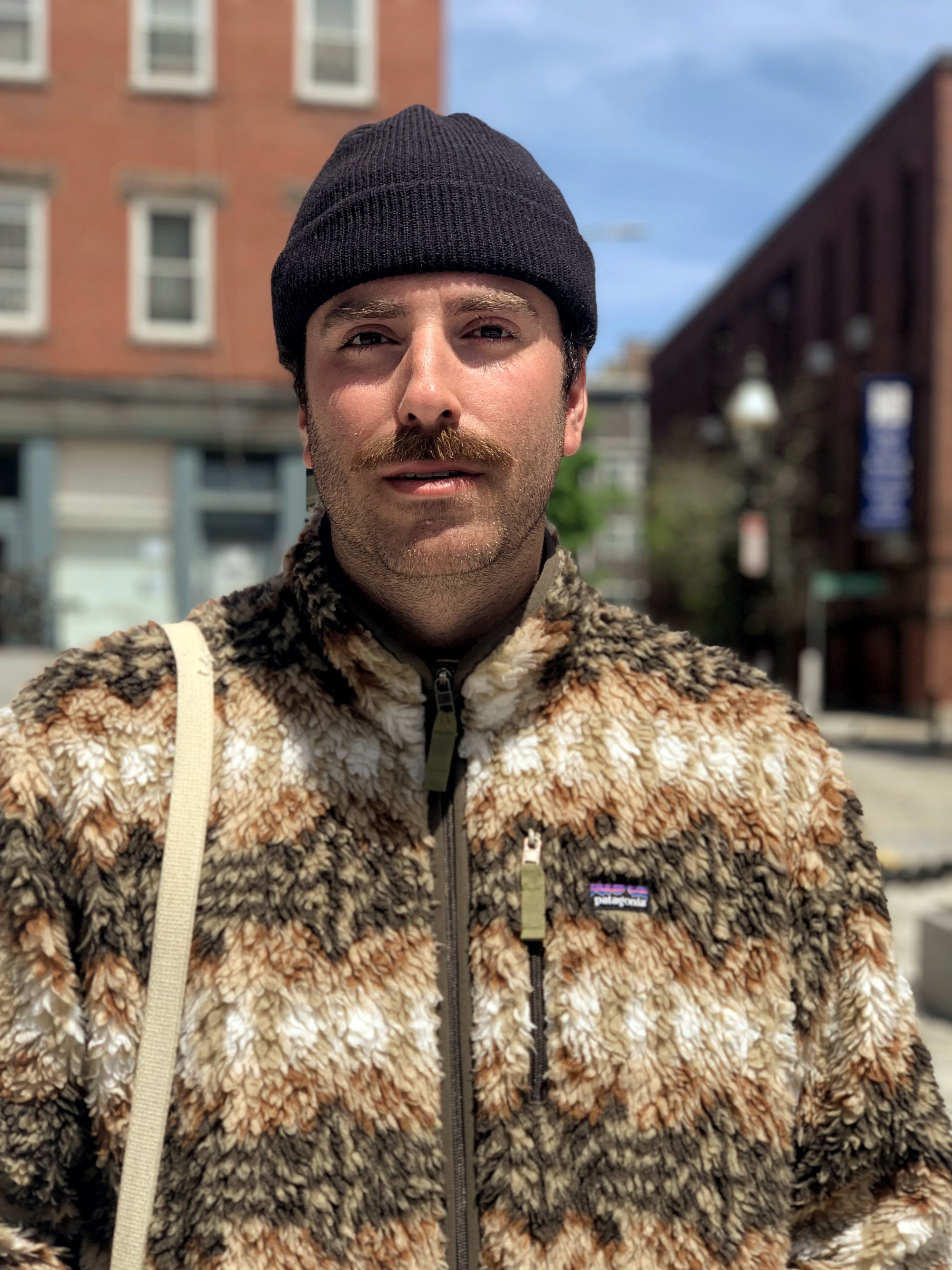 I checked in with 
@ellinport
 of Converse to see how he's been holding up these last few weeks and also find out how he got his start in the sneaker industry.⠀
⠀
Start off by telling me who you are, where you're from / currently live and what you do for work.⠀
⠀
First, a quick shoutout to you and the crew—love what you guys are doing with these features and honored to be a part of it!⠀
⠀
My name is Alex Ellinport and I'm from Long Island, NY. I moved from Queens to Boston with my fiancé, Kayla, about 2 ½ years ago. I'm a Product Line Manager for Collaborations / Energy at Converse.
You recently started a new project from home where you are using repurposed vintage garments to sew masks and selling them through your Instagram in an effort to raise money for Direct Relief.  What led you to start this project and how has the response been so far?⠀
⠀
It started out of necessity—as it became more widely understood that wearing a face covering [correctly] would prevent the spread of COVID-19, I made some masks for myself and Kayla. I posted a photo of them and a ton of people DM'd me with requests. I wanted to offer them for sale, and it only made sense to donate the proceeds directly to an organization like Direct Relief, which provides PPE to medical workers on the front line. The response has been incredible. Nike, which owns Converse, is currently offering a 2x (two times) match on donations from its employees. That means for every $1 I donate, Nike will donate an additional $2, for a total of $3. I'm on pace to donate about $1,000 soon, which means a total of $3,000 after Nike's contribution.⠀
For those unfamiliar with the job of a Product Line Manager. Can you explain in a few sentences what your role involves?⠀
⠀
A Product Line Manager (PLM) is relatively analogous to the role to a film producer. A producer works across multiple teams during production to ensure a film is completed on time, within budget, and upholds the creative and technical vision of all those involved. 
Similarly, a PLM is in constant communication with several key functions of the business—design, development, marketing, merchandising, planning, sales, and more—to oversee a product's journey from concept to introduction in market. I'm part of the team responsible for footwear collaborations and limited distribution product in particular, so we also facilitate communication and relationships with collaborative partners and help maintain the overall collaboration calendar.
In the few years that you have been with Converse what was one of the more memorable projects you had the opportunity to work on?⠀
⠀
In 2017 we launched our first collaboration with Tyler, the Creator. I was on the Merchandising team at the time and part of my responsibility was managing the allocations for retailers in North America. It was a pivotal learning experience in measuring demand, managing supply, and ensuring strong sell through. Even though I wasn't working on the product itself, it was the first visibility I had to the brand navigating the art and science of creating a product journey with a big asset like Tyler.
Before you landed a job with Converse you were a Buyer and Manager at sneaker / clothing store Extra Butter. Do you think the knowledge and experience you gained there prepared you for your next role?⠀
⠀
Almost any brand in this industry operates with a "consumer-first" mindset, and relevant retail experience is undoubtedly at the foundation of understanding the consumer. I say "relevant" to mean a retail job that aligns to the industry, but any retail job is invaluable in understanding how to deal with people. Bringing your peers in as thought partners to support and endorse your ideas goes a long way in any corporate environment. At Extra Butter I was able to spend time on the sales floor 3-5 days a week. I learned just as much from my managers and peers as I did from the customers that walked in every day. Last, don't overlook the importance of web store data.
Data collection makes the world go 'round! If you're working in retail and have access to consumer purchasing data from the web store platform, you can learn a lot about the customer without ever setting foot on the sales floor. Most boutique retailers do the majority of their sales online, and a big chunk of their 'core consumers' likely haven't ever set foot in the actual store.